Brooklyn Real Estate Market Report Q1 2022. Courtesy of the Brooklyn Home Team at Keller Williams Realty Empire in Brooklyn NY. Need Help? Contact Us anytime.
Last updated on 4/25/2022.
Market Snapshot
Happy Spring from BHT! Hopefully you've been enjoying the weather as it begins to warm up ? Here at BHT headquarters we've been working hard and monitoring this ever changing market. The economy has a lot going on right now, rising inflation, rising interest rates, supply chain constraints, etc. Fortunately it hasn't slowed down the Brooklyn housing market because January, February, and March were still very busy in terms of activity.
For example, in Q1 home sales were up 14% yoy, home prices were up 12% yoy, inventory was down 19.4% yoy, and month's supply remained around 6 months indicating a balanced market. Overall the market has remained fairly steady, even as mortgage rates have risen at a very rapid pace this year.
That being said, Q2 will be very interesting because the average rates for a 30-year fixed rate mortgage (primary residence) are in the low 5's and the average rates for a 30-year fixed rate mortgage (for investment) are in the low 6's. The last time mortgage rates broke 5% we experienced a shift in demand and a slow down in buyer activity. So far we have seen a slight slow down, but nothing drastic. If rates continue to rise throughout the second quarter however, we may see a more apparent drop off in activity.
Our prediction is that Q2 will remain fairly busy and active given that this is seasonally one of the busiest times of the year. As for the back half of the year, unless mortgage rates fall below 5%, we anticipate a slow down in sales and home buyer activity. If mortgage rates break 6% for primary purchases, we may see a more sudden shift in the market.
For any home buyers looking to buy, make sure you are running your numbers well and using conservative estimates for your interest rate and expenses. Caution is advisable in these times. As for homeowners interested in selling, if selling is in your 1-2 year plans, we would suggest initiating the selling process sooner rather than later. We have been in a seller's market since 2012 (10 years) and as we all know markets are cyclical so at some point, we will see the other end of the cycle.
Interesting times. We'll continue to watch the market and keep you posted as we progress through the year.
Months Supply
What is Month's Supply? Months of supply is the measure of how many months it would take for the current inventory of homes on the market to sell, given the current pace of home sales. For example, if there are 50 homes on the market and 10 homes selling each month, there is a 5 month supply of homes for sale.
Months of supply is a good indicator of whether a particular real estate market is favoring buyers or sellers. Typically, a market that favors sellers has less than 6 months of supply, while more than 6 months of supply indicates an excess of homes for sale that favors buyers.
# of Homes on the Market: 1,953 (Was 2,256 last quarter)
# of Homes selling each month: 316 (Was 287 last quarter)
Month's Supply: 6.2 (Was 7.9 last month)
Market in favor of: [ ] Buyers [ ] Sellers [ X ] Balanced
---
Curious how these numbers affect you? Contact us today for a Free Local Market Report: www.bklynhometeam.com/localmarketreport.
---
Brooklyn Home Sales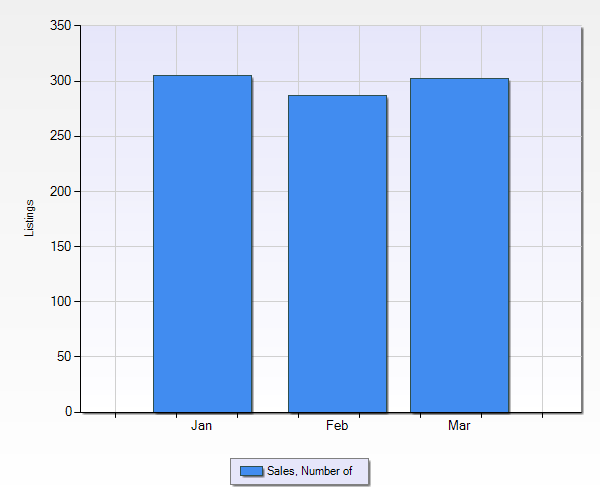 The Brooklyn Board of REALTORS® reported a total of 894 home sales in the 1st quarter of 2022. That's DOWN 10.6% from last quarter and UP 14% compared to the same quarter of last year.
Brooklyn Home Prices
At the end of the 1st Quarter 2022, the median home price in Brooklyn was $811K. That's UP 1.4% from last quarter and UP 11.9% compared to the same quarter of last year.
Brooklyn Inventory
At the end of the 1st Quarter 2022, there was a 6.2-month supply of housing inventory in Brooklyn. That's DOWN from the 7.9 month's supply we had in the previous quarter and down from the 9.4-month's supply we had in the same quarter of last year. As for active listings, currently there are a total of 1,953 homes for sale in Brooklyn (as per BNYMLS). That's DOWN from the 2,256 homes we had for sale last quarter and DOWN 19.4% compared to the same quarter of last year when there were 2,424 homes for sale.
Mortgage Rates
Mortgage Industry Insights
Source: Bankrate.com
"Most experts expected mortgage rates to rise this year, but it happened faster than many predicted, with rates on 30-year fixed loans breaking through 5 percent in April to the highest level in more than a decade.
That means it's more important than ever to compare rates before selecting a lender.
"Conducting an online search can save thousands of dollars by finding lenders offering a lower rate and more competitive fees," said Greg McBride, Bankrate's chief financial analyst.
He added that now is not a good time to agree to an adjustable-rate mortgage, even if the initial interest rate seems low.
While rising rates are likely to have a few knock-on effects in the housing market, they probably won't cause housing prices to decline significantly.
"More than a decade of chronic under building and millions of millennials moving into the home buying stage of life has created a significant imbalance between housing supply and demand," McBride said. "While rapidly rising mortgage rates may temper the demand somewhat, don't expect home price appreciation to come to a halt. A more modest pace of appreciation is the likelier outcome."
Good Reads & Listens
Economic Growth Forecast Downgraded as 'Soft Landing' Appears Increasingly Unlikely
Estimated monthly mortgage payments rose 25% year over year, report says
Housing affordability 'is the worst it's ever been,' analysts say
Mortgage Backed Securities, Quantitative Easing, Qualitative Tightening, and Mortgage Rates
*The opinions expressed in this Brooklyn Real Estate Market Analysis 2021 are intended to supplement opinions on real estate expressed by local and national media, local Brooklyn real estate agents and other expert sources. You should not treat any opinion expressed on this report as a specific inducement to make a particular investment or follow a particular strategy, but only as an expression of opinion. The Brooklyn Home Team at Keller Williams Realty Empire does not guarantee and is not responsible for the accuracy or completeness of information, and provides said information without warranties of any kind. All information presented herein is intended and should be used for educational purposes only. Nothing herein should be construed as investment advice. You should always conduct your own research and due diligence and obtain professional advice before making any investment decision. All investments involve some degree of risk. The Brooklyn Home Team will not be liable for any loss or damage caused by your reliance on information contained in this report.